LOCOMOTIVE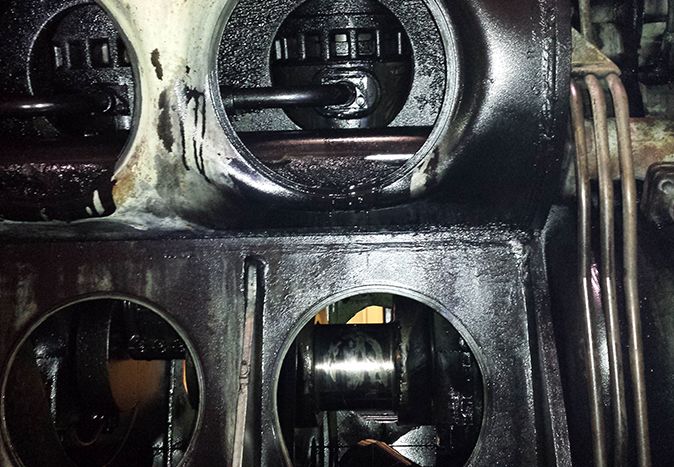 Locomotives are complex pieces of machinery that demand regular maintenance and regular repairs. The secret to having your locomotive pulling freight for years to come? Services provided by experts with the skill and years of industry experience that railroad equipment demands. Because you deserve the best, we provide the best services to our loyal customers.
General locomotive repairs
With over 40 years in the locomotive repair industry, we perform routine repairs effortlessly, getting you back to pulling freight as soon as possible.
Troubleshooting
Don't suffer. Allow the experts of our Kansas City locomotive service company to help. We have the tools and personnel needed to help you solve your troubleshooting issue quickly!
Wreck repairs
From small to large locomotive wrecks, we are prepared to handle any repair you require. With over 40 years of experience in the locomotive repair industry, we have seen it all and know the best practices to return your locomotives to pulling freight.
End-of-lease repairs
Do you have locomotives nearing their end-of-lease? As your lease ends, it is important to correct defects in order to avoid additional charges. Mid-America Car, Inc. of Kansas City can return your locomotive to its pre-lease condition. Why choose to partner with anyone else?
Return-to-service repairs
Our locomotive team is able to complete all return-to-service repairs, so you can rest assured that we have your best interest in mind.
FRA inspections
FRA inspections serve to make sure your locomotive is in safe operating condition – this is something we take very seriously. Because of this, we conduct a thorough inspection upon your request, so you will know your equipment can be operated safely.
Mobile locomotive repairs & servicing
We have the equipment and ability to perform mobile locomotive servicing and repairs, as well as some accident damage on location if necessary. Contact us for more information.
Modifications
With a full-service fabrication and custom paint shop, we have the tools needed to get your locomotive back where it should be: be: back pulling freight.
Ready to experience complete locomotive service from the convenience of our centrally located Kansas City shop or through our remote service?
Call Mid-America Car, Inc. at (816) 483-5303 for service-related details — we look forward to serving you. 
Proudly serving the United States and Canada.